Jacume Gran Prix
Gary Newsome

EXCLUSIVE RACE REPORT!

This race is always a crowd pleaser, really for the hard-core offroad fans. Contingency went on into the night with all the offroad friends. The weather was great, a cool breeze out of the west made the weather much different than that of Friday, where humidity and rain hit Tecate and Tijuana. The water truck drove by a couple times, but didin't drop any water. The racers went full bore over all the course and over the jump!


CLOSE CALL FOR OVERALL!
JAVIER ROBLES

, #1000,Takes overall,

PIN

Class 8 just 39 secs. back,

Honold / Malo

round out Podium.

Michelle Bruckman #500

in top 10!

1600's RUN WILD, dominate Top 20 of 142 ENTRIES!
Joe Laff

wins, class took 3 of top 6 and 8 of top 20 spots on fast course with lots of technical sections!

Sorted by finish times below

(best effort!, pls. note any corrections

)

: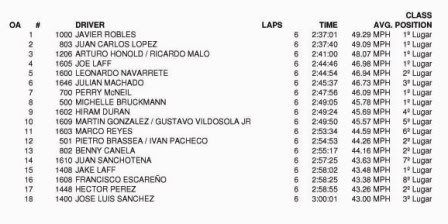 One of the most beloved desert offroad races of the season is this weekend, outside of La Rumorosa, Baja California Norte. The Jacume Gran Prix will launch many local teams into the sport of offroad. As opposed to the big Baja races, this is a great race for the family, teams and true desert racing fans.

Located near the infamous border bandit town of Jacume, where gunshots, human coyotes and nighttime felonies rule, racers will jet through the high sonoran desert terrain. In the pinon pines and granite alluvium of the tablelands outside of the largest plateau in Baja, the course is challenging and fun. Teams here always have a blast and the competition is fierce!

The champs from last year Blues Brothers Racing Class one, is not registered to defend their title. Many other teams from last year will fight to retain their title and blast to new stardom. The organizers of the race claim more registrants this year and much more fan interest, so there will be another huge crowd on Saturday morning, to witness the Gran Prix of Baja offroad racing, in Jacume. First racers launch at 6 AM.