Baja Racing News.com

STEVE McQueen and Baja Racing!

Steve McQueen and the famous Baja boot.
The Hurst Baja Boot was envisioned by Vic Hickey who was regarded as one of General Motors top engineers of the time. GM had a "no racing" policy in place that initially stopped any plans of producing the Baja. But under the shadow of darkness, Hickey and Drino Miller completed the Baja Boot in 26 days at the Hurst facility in Michigan. The chassis was constructed out of SAE- 1010 13/4-inch steel tubing that weighed 3,450 pounds. The suspension system included parts from a Corvette rear drive assemblies and a Dana transfer case to support the 112 inch long hybrid four-wheel-drive buggy. The Baja Boot could operate from a Front wheel drive platform through an inverted drive assembly that allowed the driver to disengage the transfer case. Other Innovative features included a collapsible steering column, 11-inch Hurst-Airheart disc brakes, a 20-inch-diameter six-blade fan with reversed pitch, and a 350ci V-8 engine that was installed backwards.
George Hurst was the first sponsor of the Publisher of Baja Racing News.com, early in their desert racing exploits, back in 1985. More on that later.

Steve McQueen, Bud Ekins and the legendary Chevy-powered Hurst Baja Boot, only 2 were ever made.
McQueen raced the Baja Boot in 1969's 'Baja 1000′, Set on Mexico's Baja California Peninsula, also known as 'The Devils Playground', the Baja 1000 was the longest off road race in the world. It is also arguably the toughest and most dangerous– 1969's event claiming two lives.
Steve McQueen was accompanied by co-driver Harold Daigh this time out, and the pair were traveling well, but, with just 237 miles completed, disaster struck when a broken transmission put them out of the race.
McQueen later told William Nolan– "In the fast sections, it was not unusual for us to get airborne for 50 to 70 feet over road dips. The Boot rides so smooth you can overdo things. Even in bad, choppy sections it'll do 60 or so, and if you slam into a big rock at that speed you can crack an axle or worse."
Prior to Baja, Steve first raced the Baja Boot in the 'Stardust 7-11′ off-road race in June 1968. A gruelling 320 mile odyssey for both cars and motorbikes, the race started at the Stardust raceway in Las Vegas, Nevada, and ran across the potentially lethal Amargosa desert. Friend and fellow racer Bud Ekins was also with Steve in the Baja Boot in the role of rider-navigator.
In the lead up to the race Steve told the media - "I've lined me up a sweet machine for this one called the 'Baja Boot.' Chevy powered. Four hundred and fifty horses under the bonnet. Space frame construction. Four-wheel drive. Independant suspension. And 'smooth'! I can notch close to a hundred over a sand wash and you better believe that's moving."
Steve and Bud were performing well in the race, until, in Steve's own words, as related to writer William F Nolan– "We were really battin' along, feeling good about the car and our chances with it, when we see this big fat wheel rolling along beside us. It's our wheel! The axle had popped. Well, that did it. We just sat on our tails in the desert 'till help came."
A not uncommon occurrence in Baja racing...
Another Steve McQueen and Baja connection...
I am incredibly lucky to know Bruce and Winnie Meyers, of Meyers Manx fame. Bruce invented the dune buggy, and was instrumental in the Southern California Surf and Dune Buggy cultures, which were very close in the 60's and 70's - I am sure the inspiration for the use of a dune buggy in The Thomas Crown Affair.

Steve McQueen's highly-customized, Corvair-powered, Meyers Manx dune buggy from "The Thomas Crown Affair."
Steve McQueen on the "Thomas Crown" Dune Buggy–
"Crown lives at the beach, and he has a sand Dune Buggy. I helped them design it, so I'm kind of proud of that. What it is, it's set on a Volkswagen chassis, with great old wide weenies – big wide tires on it with mag wheels. Corvair engine stuffed in the back, and a semi reclining position, somewhat like my formula 1 car. It's very light, you know, I think we are around about 230 horses, and the vehicle weighs about 1000 pounds."

Steve McQueen & Faye Dunaway with the dune buggy from "The Thomas Crown Affair."
All the Dune Buggy stunt scenes from The Thomas Crown Affair were performed by Steve McQueen himself– with actress Faye Dunaway bravely sitting by McQueen's side like a true sport. Man, how I love the howl of that souped-up Corvair engine in the clip below–Special Thanks To Cathexis Labs
Mickey Thompson Off-Road Rigs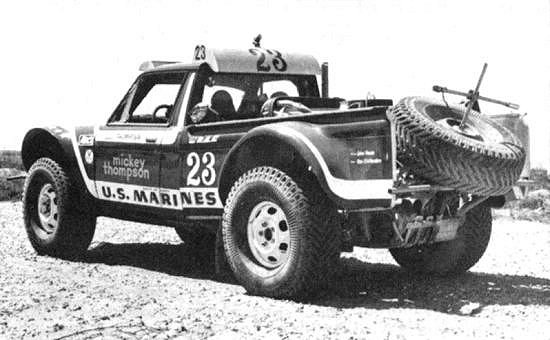 Mickey Thompson was one of the great pioneers of off road racing. Not only did he promote some of the best racing in history, but he was also a leader in off road racing technology. Check out the link to see some of his unique creations!