UPDATE: SCORE IS F***ED, IT'S OFFICIAL
Kurt Caselli:
"Roger Norman didn't have his homework done!..."Norman never explained the mess"...
"The Safety Issue". Cryptic.
***LISTEN IN TO KURT CASELLI FROM MARCH 2013 TALK ABOUT HIS EXPERIENCE WITH SCORE RACING at 7:37 ON THE RECORDING***
--------------------------------------------------------------------------------------------------
***
UPDATE: December 27, 2013 CLICK HERE For the NEW KTM RALLY BIKE***
THAT KURT TALKED ABOUT IN THE INTERVIEW LISTED ABOVE
--------------------------------------------------------------------------
LOST IN THE DESERT
The Real Story of a World Class Desert Racer
Lost in the Baja 1000 2013
Kurt Caselli Dies From Shock, No Medical Assistance
Reaches Famed Racer and Roger Norman Blows it off
ESPN ARTICLE LINK HERE
Story By: Gary Newsome, Editor BajaRacingNews.com
HIGHLIGHTED BREAKING NEW INFO
UPDATED! January 7, 2014
Well Known, Race Tracking Fraud?
Update December 31, 2013
The Key Witness
By: Gary Newsome
December 31, 2013
Roger Norman and his wife, were sitting in his mom's restaurant named after the racing organization, this last Tuesday (Dec. 17) night. Only a couple of tables were busy, the place was mostly empty. During the same day, they pimped the night at the restaurant as a promotion. They pumped their facebook, twitter and youtube accounts, trying to get people to buy burgers and beer, with them watching their taped web based pigs-swill*.
*A promotional effort that uses known 'criminal' southern Baja off-roaders, who participated in a recent race that severely injured a race fan and one of the racers lost his finger due to desert racing disorganization. This contingent were charged by the State of Baja Sur authorities with crimes and the principles paid to get out of that jam. Roger was warned by a Baja south racer, but he ignored that his working with this element, commonly steals from racers.
Few showed up. After nearly a year of SCORE ownership, even the true believers, the die-hards can see through Rogers BS.
And there was Rogers involvement in the USA 500...
More later...
And there was Rogers comments about the dead Baja 500 contestant from earlier in the year. A Baja Pits favorite had been a victim of a heart attack while racing and bike theft after he fell to the dirt, dead. More later...CLICK HERE
And there was Rogers punting of a motorcycle participant of another Baja race and the endless video, internet and ego self promoting, before Roger Norman bought out Sal Fish. CLICK HERE
And Mr. Big Banana! We welcome back Big Banana for 2014!

CLICK HERE!
Roger Norman Gambles The Lives of Racers
He calls for viewers of the TV show:
"We intend to parlay the success of this broadcast into a full six (6) race national television broadcast schedule for 2014!...

we MUST be successful on national television. THIS is our chance! Now is the time! We MUST make national television our PRIORITY #1!"
The ESPN story hadn't broken yet and the awards ceremony had been a juvenile display. Roger Normans SCORE, forced the Caselli family to suffer through
an embarrassing display of desert racing chest bumping, before "receiving" Kurts "awards". Really, an ill fated suck-up.
Just days later, SCORE-ESPN-ABC misspelled Kurts name on the vaunted TV Baja 1000 show. An incredible, disgusting display of how little care and concern for the memory of Kurt, his family & friends and racers in general. clearly, not "Priority #1".
CLICK HERE ESPN STORY CLICK HERE
Why wasn't there a "SCORE" chopper following the moto leaders, as in years past? Just watch the ESPN TV Show, its a Trophy Truck jerk-off. In an interview, Roger complained, "I spent 40 grand on choppers".
Norman has refused any further comment on dispatch of helicopters during the Caselli incident.

Just after Roger Norman, claiming he was "on vacation" or he thought he would have 'off-time' after the SCORE awards and the end of his comped travel to the Dakar event, the key witness in the Caselli incident told the entire story, exclusively with BajaRacingNews.com about their experience.

In the key witness's first interview since the incident, after avoiding talking with ESPN, we expose the truth about Roger Norman and his, SCORE-International.
Story Posted: January 7, 2014 Race Tracking Fraud?
"No one with SCORE or Roger have called me", said the key witness.
Roger had not run the Baja 1000 for 40 years as the ESPN story alluded. In fact, he had so few events under his belt, in Mexico, under the world-wide body FIA, he doesn't qualify to be an event organizer.
But, because Baja Mexico has allowed this desert off-road racing circus to exist in private terms and because Baja Mexico is desperate for international visitors, they are tolerated. Somewhat like the 'Mexico legal', prostitution.
"You can f***, as long as you pay".
The key witness found Kurt, when others had no idea how to find him.
Kurt was breathing, when found. But, with no radio, no medical expertise and no direction from leadership on what to do other than, "find Kurt Caselli", the key witness failed to help Kurt.
He had been 'found', but that's it.
Even though he is an experienced desert racer (not described in the ESPN piece), a member of a 'for profit' pit service and a motorcycle rider, he was completely unaware of what to do, to help Kurt.
The race sanctioner had failed its obligatory requirements to fully inform the racing community of the complete changes from the previous owner and the nature and extent of emergency and tracking provisions, to event participants.
No where on the event application is there required notice information.
KTM as a team, Kurt as a participant and the key witness as a 'rescue service', in place of a reasonable response from the event organizer, were unaware of the changes, risks and potential results of their inclusion in this 2013 Baja 1000, desert off-road race.
In his first public interview, the key witness told us, "I'm writing a book about my life and so far, this chapter is 28 pages long". "Kurt was the Elvis of desert off-road racing", he continued. "I'm working with Kim Carpenter and Rescue 3 to put an emergency medical rescue force on every SCORE race course, whether they allow us to do it or not".
When asked directly, what went wrong, the key witness said, "his helicopter didn't know where he was, either did SCORE operations, because when the weatherman called on the race radio relay network to us (for profit pit services) we knew then, there was a big problem". He continued, "I saw choppers looking for Kurt after that radio call, I was sent out to look for Kurt, it was an emergency".
The key witness feels bad that he didn't leave quickly, right away, to find Kurt. He lingered in the pit area. "Besides, we didn't know how long he had been "lost", nor his condition".
"When I found him and I
moved Kurts bike into a more 'visable' position and then he left Kurt alone". Barely alive.
In more reporting in 2014, BajaRacingNews.com will continue to report on the inadequate command, control and tech connections of racing with SCORE in Mexico. We'll focus on the failed civil protection choices, the failed medical response and the predicted tracking fail of the Baja 1000 2013.
SCORE owns and employs a failed tracking system. The racers can only follow. There is NO real race sanctioner, no review board and no outside independent influence on the core decision making of the race organizer. It can be said, he only cares about the money. As he "parlays" the lives of his customers.
The "Safety Committee", Roger as a racer, demanded in 2010 of Sal Fish the previous owner of SCORE at the time, is GONE!
CLICK HERE!
Roger demanded the committee, after HE ran over and almost killed a moto competitor in the 2010 race.
[Edit-
Bill Black was the "safety director" of SCORE during this event. Black refused comment, told BajaRacingNews.com to talk to the SCORE attorney. -November 6, 2014 ]
In conclusion, there will be more death, injury and damage as result of failed choices and decisions by the new owner of SCORE International.
The reason why Kurt Caselli was
"Lost In The Desert", as the ESPN article implies, was because no one could find him for hours. 3.5 miles from pavement and so near Ojos Negros, a suburb of Ensenada, the start and finish line of this event.
There was no reason with clear communications and a professional operational capability by the event organizer, should anyone be 'lost'. However, in this incident, there were no clear communications and the tracking system chosen by the very green event organizer, is very fallible.
The reason the tracking system has not been used for competition speed events, since being created, was that the manufacturer mandated by contract the system NOT be used for those events.
So bad is the system in question, that location updates often aren't completed for thirty to forty-five minutes. Many times, even longer in various circumstances. In speed events, in the middle of variable topographic terrain, updated signal failure is common. The system claims 2.5 minute updates.
BajaRacingNews.com challenges Roger Norman and SCORE to prove its failed "SCORE Tracking", (copyright symbol placed here), can reliably deliver a 2.5 minute completed update signal, in Baja Mexico desert racing conditions.
We also challenge the race sanctioner to prove its command, control and communication plans for future events in Mexico will not result in complicating another racer death.
The greatest threat to racers in SCORE events in Mexico, is not the racing! It's the ignorance of the desert racers, generated by misinformation, a lack of information provision and use of untested and/or failed systems by the race organizer, Roger Norman of SCORE International.
CLICK LINK BELOW TO READ THE REST OF THE REPORTING
V
V
V
UPDATE December 19, 2013
BULLETIN! CLICK HERE ESPN RELEASES CASELLI STORY, CONFIRMS BajaRacingNews.com REPORTING
CLICK HERE FOR ASSOCIATED ESPN VIDEO
ESPN Released This Story and Video on Thursday, December 19, 2013.
UPDATE December 17, 2013
Monday, December 2, 2013.
The BajaRacingNews.com CONCLUSIONS:
Roger Norman scrapped Sal Fish's Emergency Medical System for something else. This was not just a tracking & communications fail. It's an exposure of the philosophy of the race sanctioner.
From our November 4 BAJA 1000 UPDATE:
""the former owner allowed a United States insurance broker, to structure and operate a medical response organization, within its events in Mexico. And the United States!
When the new owner of SCORE-International, Roger Norman, investigated this structure, he dismantled and closed it. He found, "they had meat wagons substituting for ambulances". The once heralded SCORE medical response structure was dismantled and cast to the wind.
This action by the Mexican sanctioner, proved BajaRacingNews.com allegations that the former SCORE-Instant Insurance medical coverage relationship was faulty. Instant was kicked to the curb and out of the rubble, the relationship with Qualitas was retained, along with the long time legal representation of Oscar Ramos.
During the entire time, Hal Andreoli was claimed and acted as 'Medical Director'. No medical authorizations could be found to support this tenure. Roger Norman claimed Andreoli was responsible for 'hiring' the "meat wagons".""
What is the real new SCORE-International? NEXT>
>Roger Normans SCORE uses Cruz Roja and Federal Highway Patrol in place of SCORE Emergency Medical Service provision.
>Roger Normans SCORE uses unqualified 'volunteers' in place of qualified racing personnel, like BFGoodrich reps, for course marking, race radio relay and general race operations/safety functions.
>Prior to Roger Normans purchase of SCORE, personnel from BFGoodrich served in important race roles in the former organization. One being the CRB, competition review board. Roger Normans SCORE has no independent CRB.
>Roger Normans 'race director', is unqualified for the job. Roger Normans 'safety director' is unqualified for the job and found out he got the job, by finding his name and the announcement, on an online press release.
>The way Roger Normans SCORE has used people over the past fourteen months, is reflected in the serious mistakes from the last year race series.
>What was the first public action by the 'new' SCORE? A new YouTube account, started in September 2012. Maybe working on race operations from the beginning would have made a difference.
>Kurt Caselli's March 2013 comments, like "Roger Norman didn't do his homework" and the lingering questions about Kurt's subsequent death are a damming indictment on Roger Normans ownership of SCORE, moving forward.
And how can we not mention, Roger Normans HDRA, choosing the raging drunk, Rich Klein, as his first "press" rep for his event in Nevada, holed up in a hotel room. Why was Rich chosen for the 'job'? He was FREEEEEEEE!
Our Official 'SCORE'Card: F. F***ED.
Gary Newsome, Editor, Baja Racing News.com
CLICK HERE!
December 5, 2013 UPDATE!
KTM Requests Submissions
KTM Announces Team/ CLICK HERE!
December 3, 2013
Ivan Ramirez Interview (Spanish)
December 1, 2013
Kim mourns the passing of Kurt Caselli:
"They said I did a great job and want me back for San Felipe. Yee Hee"
(SCORE) Desert Racing Promotes Secrecy, Cover-up, Human Suffering and Death.
Kim, Who's Gonna Die Next?
November 29, 2013
The Negligent Speak:
"Kim Szujewski Carpenter,

"Professional volunteer", Lousy service for free:
""Everyone take note: I have nothing to say about the tragic loss of Kurt Caselli. I will not disrespect his family, friends and fellow racers. Stop calling me please! I will say nothing negative about SCORE nor the people associated with the organization even though many of you want me to. Many of the people associated with SCORE are volunteers just like me. We put in long hours to make desert racing safe, fun, exciting, challenging and yes, I'll say it again SAFE.

Some people want information because they are generally curious, others because they are nosy and others because they have ill intentions. I will not be brought into your circle of ugliness.

Please, leave me along (sp)[alone]. I have nothing to say!""
A trusted BRN source, a friend of Kims, tells BajaRacingNews.com:
"Kim told me Kurt was not located for a really long time and she feels partially responsible. Kim claims to be the 'Queen of desert safety', but, in reality she 'volunteers' for the freebies."
"She does this desert stuff to ditch the family she hates. She knows the Caselli death is a big, black mark but, she needs the freebies of volunteering. It's all very self-serving. The denial by the community is the same, shameless selfishness."
"Kim feels real, real bad, she was at the center of one of the biggest desert racing cluster f****s, ever. She knows she's guilty. And she's admitted that. Kim also said, "the weatherman (Bob) and herself knew a horrific tragedy was in the making for hours as they tried(?) to find Kurt. They never did. SCORE operations was deaf, dumb and blind"."
Kim Szujewski Carpenter want more freebies!!! From D37, D38, SCORE and BITD.
Right: Her Facebook slop:
Desert Racing Implodes:
"
If this community were serious about learning from this incident, there would be an all out no holds investigation and a follow on public discussion. We'd have actual facts. People wouldn't be telling other people to shut up and requesting to have 'any discussion' removed."
""help reached Caselli in 20 minutes""
SCORE spokesman tells to reporter.-

CoverUp?
"
"SCORE will Fail Tracking BAJA 1000""
As was predicted and discussed here on Baja Racing News.com[Nov. 5 UPDATE], this BAJA 1000 experienced a race tracking failure, in numerous and catastrophic functions. We'll explain how devastating this pre-seen tracking fail may have led to fatal, unintended consequences.
**The race sanctioning body website, tracking connection.

"Error establishing a database connection"

.
**The "SCORE Tracking", even after the recovery of the "Error", continued to fail thru the race. Data used by the "tracking" companies, 'Spot' and 'Tracking Leaders' was completely unreliable, through the end of the event.
***The race sanctioning body reportedly 'shut-down' its internet access to their 'race radio relay'"feed", portrayed to the public for the first time since taking over the Baja races. Only minutes earlier, to great fanfare, the SCORE announcer made it sound like the second coming of Christ.
Race Communications Failure
Unseen prior to the race however, was the utter and complete failure in the entire SCORE communication system. We'll document the failures in this article.
***SCORE Ops (Operations) and Radio Relay could not communicate much of the race. Why?
Remote race radio relay,

"had no power and no connections to the net"

.
**Sat phones had no
antennae

s
**Hughes Sat Service.

"No passwords" or the expressed issue, "we ran out of quarters"

.
SCORE operations could not, under all circumstances, communicate throughout the race sanctioning body network.
They also lost 'track' of racers.
[As said by an ESPN reporter covering the KTM BAJA 1000 effort: Time Stamped, 4:12 PM Friday, Nov. 15:

"Looking at the #Baja1000 live tracking app, looks like the @ktmusa tracker is broken again."]
-------------------------------------------
Our prayers to the Caselli Family.
-------------------------------------------
The 'SCORE'Card:
An Online User Experience and Reaction
""I can't believe I just heard the live Score announcer talk all about the 1x winning the race after describing the race-long dice with Caselli. They have to know that Kurt is dead and SCORE doesn't seem to have the nuts to cope and deal with reality. They just ignored the fact that the guy who would obviously have been in 2nd. place just sorta didn't show up.
Just before 2:00 AM, my local time, SCORE shut off their audio feed from "Weatherman Diablo", they had just finished setting up another station called "Weatherman North" and about the time that the 1X and 2X were passing Mike's, it was reported that a big iron pipe had been put across the road very near the RM where Kurt died. There were several transmissions about the pipe across the road.

The SCORE helicopter was supposed to have flown there and made sure the problem was taken care of. The next report was, 1X has passed Check point 7, then someone came on the radio and asked where the 2X was, then a few minutes later, this DELAYED (not live) re-broadcast of a microphone laying on Weatherman's desk in his motorhome was terminated by the the broadcaster, SCORE.

Note that I was also watching the LIVE finish line sports broadcaster wannabes in a different window so I knew clearly that the audio-only broadcast of Weatherman was a delay. And, David, I do know that this wasn't the "real" weatherman, but a new man. Aside from the fact that he seems many times by his language to have forgotten that his every word, to his dog, to his friends, and to himself were being streamed to the world, he seemed to do a great job of making sure he didn't get blamed for leaving someone cold in the desert all night. When he described an ATV as a "four wheeled motorcycle thingie" I got the impression he was more familiar with radio than racing, but that is not a criticism.

I very saddened today that we have lost this bright young man, but Baja has a way to go to catch up with the Isle of Man as a grim reaper of racers. There seems to be no end to the folks who are anxious to zip-on the leathers either place.
The way SCORE handled this LIVE last night leaves me feeling that this report is about as dependable as something on Facebook. If you were listening and watching last night, you couldn't have missed this little problem that the SCORE stream chose to ignore. The 1X and 2X had been a hundred miles from the finish line and a minute apart, and when the 2nd. place bike crossed the finish line, SCORE publicly decided to not even comment on the fact that the FIRST place bike was missing!

If they didn't already know that they had a disaster that they didn't want to spoil their party, wouldn't someone have raised the question that 2X might have had a mechanical breakdown, or run out of gas, or got lost. NOPE, they just pretended that nothing happened for hours after that.""
[Editor: The 'SCORE announcer confirmed to BajaRacingNews.com, "we did know at that time, Kurt was dead"]
From November 16, 2013
CLICK HERE FOR ESPN VIDEO
December 2, 2013 Editorial Cut-Off
CLICK THERE FOR MORE
V
***A Reminder***
Remember years ago, when the SCORE-BFGoodrich-Globalstar tracking collapse, marred that Baja 1000.[Edit.]
This time, the technology has caught up to the times. The people haven't. In a very brief interview with the owner of the sanctioning body last night
prior to the close of the race,

when asked about the massive fails, Norman said, "We didn't have any problems".
***------------------------------------------***
[Editors Note: Baja Racing News.com completes preliminary investigation. Monday, November 25th.]
-----------------------------------------------------
The BAJA 1000-Caselli Timeline
Nov. 15, 2013

Rise

Set

Actual Time

6:19 AM PST
4:47 PM PST

Civil Twilight

5:52 AM PST
5:13 PM PST

Nautical Twilight

5:23 AM PST
5:43 PM PST

Astronomical Twilight

4:53 AM PST
6:12 PM PST

Moon

3:42 PM PST (11/15)

4:25 AM PST (11/15)

Length Of Visible Light

11h 20m

Length of Day
Waxing Gibbous, 97% of the Moon is Illuminated
DATA LOADING HERE...
*

"
9:16:22pm, presumably when the bike was picked up and taken back to the highway and on to Ensenada".
According to SPOT data.
*According to SCORE the accident occurred at 4:30 PM
*According to ESPN Reporter, "KTM Tracker "Broken again" at 4:12 PM
*

"Exact Time of Crash": "2:59:45pm".
According to SPOT data.
---------------------------------------------------------------------------------------
*Following data is from SCORE's website (Recorded live; tracking data)
At 2:57Pm
2x leads 1x by 1/3 mi when 1x stops (colton crash) at RM787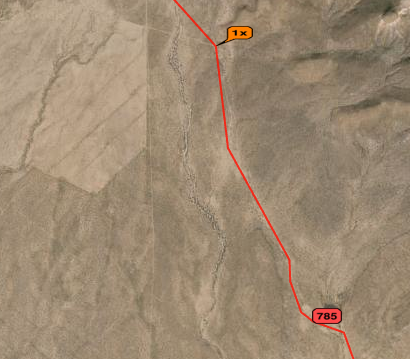 2x continues to 792 and stops at 2:59pm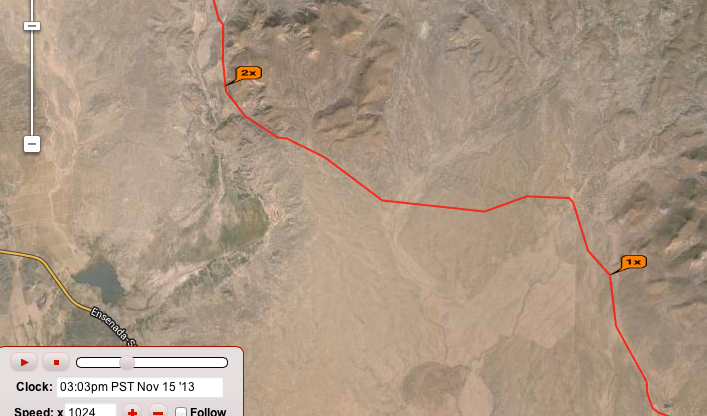 1x starts moving again at 3:20 and reaches 2x spot at 3:26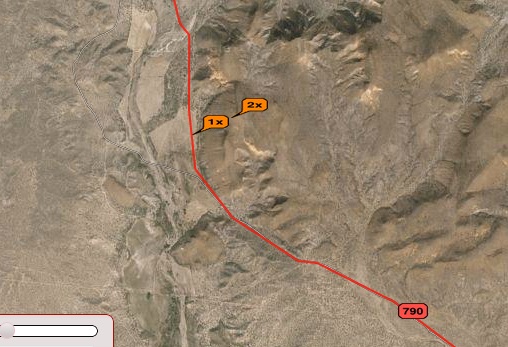 Video of Tracking Data November 15, 2013
-----------------------------------------------------
Our BAJA 1000 "LIVE!" Coverage Started during the race event, posted in this section for continuity:
AMEX Now Investigating Caselli Death
***Editors Question:
Was the race sanctioning body emergency response to this incident, reasonable and adequate [
satisfactory or acceptable in quality or quantity]?.
UPDATE: November 25, 2013
Various Sourced Reports:
""
I still believe more questions need to be asked and confirmed besides why the spot tracker didn't work.

I feel the professional and sensible thing to do is for SCORE and KTM to release an official statement of the events in question. This would squash most, if not all, of the questions and conjecture but also bring the closure and lessons learned could be taken from it. The accident happened. Honda was the next bike thru and "didn't see KC" and had no reason to be looking for him. As far as Honda knew KTM was still leading the race.
When the Honda made it to the next pit or road crossing before KTM thats when they realized there was a problem.(unknown amount of time).
The helo was sent to look for him.(more time) couldn't find him. From what I read both KTM and Honda helos were looking.

KTM asked BAJA PITS to send someone to look for KC. This is when Turtle [identified as Ken] started looking.(more time)

Turtle finds him and TRIED to call for help.(more time)

Turtle moves his bike so it can be seen by the next rider. [Reportedly, he 'sets' up the bike, to be more easily seen] Turtle goes for help. He is not a Pro rider at race speed so I'm sure it takes him much longer than 15 minutes get someone.

The 4x is told KC is missing. The 4x was 70 miles behind the leaders. The 4x and Ivan find him at about the same time. (Not sure where Ivan was when he was sent to look for KC)

A distress call is sent out.(not sure how that is done).

Turtle brings the police.

I think what you need to realize is this is the middle of nowhere. From what I read it takes some of the pit crews hours of driving on dirt roads just to get to the pit spots. Everyone involved did the best they could to get KC help as fast as possible. The only thing that needs to be questioned is the reliability of the SPOT tracking device.""
Story Break...November 26, 2013
""I was at RM-780 and yes Kurt was physically one minute ahead of Colton but on corrected time, Colton was one minute ahead. Fact number two, it was day light and his helicopter was not following him when he passed RM-780 but did flyby about an half hour later after reports from the weatherman that 2x was missing and had not reached the pavement crossing yet. I was told that his helicopter was down for refueling at that time. About 45 minutes after he was reported missing Ivan rode back from Alamo where he was waiting for Kurt to take the bike to the finish. I was at RM-780 for over 24 hours and we saw many cows, horses, goats and coyotes, this area is thick with vegetation and it would be hard to see an animal at the speed he was going."
"It is almost certain that Kurt hit a range cow. Apparently it was obvious once they recovered the bike in daylight. One report says the dead cow was also found a short distance away.
[There is also a report of a loose horse in the area at the time of the incident]

Colton Udall had crashed very hard on the Honda just a couple of miles behind Kurt at nearly the exact same time. He destroyed the front wheel. They had to land the helicopter to replace the wheel.
Leading the race by a few seconds after 790+ miles Kurt hit a cow at around 60 mph, shortly before 3 pm, crashed. This seems to be the case with various accounts confirming it. Including his tracker.
REPORTEDLY His helicopter at the time was at Mikes refueling.
SCORE and KTM both started looking for him via phone calls shortly thereafter.
The 1x bike rode past, not seeing him, about 30 minutes later, after crashing nearby and getting aid from their team, who drove in a spare wheel."
"Here is a vid of Kurt minutes before the crash. You can clearly hear a helicopter. Maybe it was the Honda helo. You can clearly see the bike is in good shape with a fast pit, no obvious evidence of a previous animal impact or crash, etc. https://www.facebook...201975820893870 Hard to say if he had a goPro on him or not. The headlight was not on, but that probably wouldnt have affected spooked cattle. It strongly suggests he was racing fine with a nice pit stop only 10-11 miles or so before the crash. Pit stops can throw off ones rhythem, but 10 minutes back on is about perfect to be back in the zone. The vid shows clear skies, and it seems pre-dusk, something i had wondered about. Racing at dusk in baja can be almost a 'white out' situation. But it seems in the vid its not yet that time of day.""
November 19, 2013
***Andy Kirker Report:
"These are the facts of what happened to KURT CASELLI at RM 792.
(per Skyler Howes and Ivan Ramirez)

KTM had just pitted Kurt at RM 779. 13 miles later is where Kurt had crashed. The first person on scene was a spectator named "Turtle". Kurt was still breathing at this time.
After many minutes, Turtle left to go get help. He did not want to leave but had no choice. This was in a very remote area with sand washes, ravines and trees and hardly any spectators. In the meantime, KTM was re-fueling their helicopter. When they got back in the air, they could not find Kurt - nor could the Honda helicopter. Chris was now getting calls from KTM and SCORE, everyone was looking for Kurt. Kim was working the radios for SCORE and this had now become a Code Red. She was helping us as much as she could. They were all frantically searching. Nobody could find him. We tracked him and told as many as we could what race mile he was at approximately (with Spot trackers, it's not exactly accurate and updates only every 10 or so minutes).

Ivan rode in to find him and he and Ricky Brabec got to Kurt almost at the same time (maybe one right before the other). Ricky on the 4x bike. This was quite a bit of time after Kurt had crashed. Then they started pushing the SOS button on the bike and got the info to KTM and SCORE. Kurt was not breathing at this point. The ambulance arrived at Kurt and now it's night time. They tried to revive him but Kurt had already passed.

After inspection of Kurt's bike, it has been confirmed that he hit a large animal at full speed - either a cow or horse.""
*Recent Press Report:

Caselli's KTM team, who have now recovered the bike, discovered traces on the machine that indicate he had collided with some small animal, which apparently caused the crash.

"Today we lost a hero in the worst possible circumstances," said Pit Beirer, head of KTM Motorsports. "We are shocked and saddened by this tragic news and our thoughts and deepest condolences go out to Kurt's family.

"Kurt was much more than a very talented rider; he was also an exceptional team player. He represented and lived by the values and a passion for racing that lies at the very core of KTM. Our sport has lost more than a great rider; we have also lost an excellent ambassador for off-road racing."

Tributes from his fellow competitors and friends have poured in since the tragic news broke late last night.
Source found HERE
*SCORE Press Rep Talks To TMZ:
(Nov 16, 12:30 AM)
"Kurt Caselli -- a highly decorated off-road racing competitor -- died Friday evening in Baja, Mexico ... after he crashed his motorcycle during a sandy section of the course.



According to a rep for the 2013 Tecate SCORE Baja 1000 ... Kurt died from injuries sustained in the crash while en route to a hospital in Ensenada.



The rep says Caselli "apparently lost control of his KTM motorcycle in a sandy, high-speed section" of the course ..."
*First Hand Report In:
From Destry Abbott: Robert Taylor:
Did the 1x stop? Score press release says KC was leading".
*The American Motorcyclist Association expresses deep regret for the death of multi-time AMA National Champion Kurt Caselli. The reigning champion of the AMA National Hare & Hound Championship Series succumbed to injuries suffered while competing in the Baja 1000 in Baja California, Mexico, on Nov. 15. Caselli was 30 years old.

"Kurt Caselli was one of American desert racing's finest champions, and his early and untimely death is a major blow to the hearts and minds of all of us who knew him or knew of him," said AMA President and CEO Rob Dingman. "Caselli was a gracious competitor, a team leader and a fan favorite. His love for motorcycling showed through in everything he did, whether he was leading his fellow racers as the U.S. team captain for the International Six Days Enduro or signing autographs for a young fan. On behalf of the AMA Board of Directors, our staff and AMA members everywhere, we offer our condolences to the family of Kurt Caselli and thank them for sharing with us one of the sport's finest racers and greatest men."

Caselli's accomplishments included the 2011, 2012 and 2013 AMA National Hare & Hound National Championships, 2007 AMA Sportsman of the Year honors, numerous ISDE gold medals, several first-American ISDE finishes and an overall ISDE E3 class victory in 2007. Caselli also was a member of the World Championship winning 2006 ISDE U.S. Junior Team.

Caselli had recently announced a shift to international rally racing for KTM, a move that was expected to fuel additional American interest in the sport of rally racing and was chronicled in a cover story in the off-road version of the December issue of American Motorcyclist, the journal of the AMA.
*
From Mexico News Wire:
""Ensenada, B.C. - The Californian rider Kurt Caselli died this afternoon during the 46th SCORE Baja 1000, this after suffering a head impact when was stalking the race leader, Colton Udal. Caselli, 30 years old, was part of the team with his fellow KTM, Elena Santos Junior, Kendall Norman and Mike Brown, participated in Class 22 motorcycle aboard 2x. Precisely the American had started on Thursday ahead within the competition, this after winning the first qualification of motorcycles in the history of SCORE International and Lows, in what is a story that fills in mourning the Off-Road or off-road . This year, Kurt debuted at Dakar Rally as a replacement Spanish Marc Coma after injuring the latter and managed to win several stages, ending at position 31 in general. Currently Caselli was second in the championship of the 22 and was a favorite to win the 1000 miles, after finishing second in the Baja 500 and San Felipe 250""
[Editor: an earlier version of this report included the mention of a 'trap' and/or man-made 'race diversion']
*""November 16, 2013
B U L L E T I N
SCORE International confirms tragic racing accident claims life of American desert racing star Kurt Caselli
ENSENADA, Mexico—SCORE International, a desert racing sanctioning body based in Reno, Nev., has confirmed that American motorcycle star Kurt Caselli tragically lost his life Friday as a result of injuries sustained during a late-race accident at the SCORE Baja 1000 being held in Mexico's Baja California.
One of the best-liked and respected personalities in American desert racing, Caselli, 30, of Palmdale, Calif., died of serious trauma incurred when he apparently lost control of his KTM motorcycle in a sandy, high-speed section at approximate race-mile 792 while his team was leading in the late stages of the 883.1-mile international desert race.
The accident occurred at 4:30 p.m. PT Friday.
"Our desert racing family has lost a very special person in Kurt," commented SCORE President Roger Norman. "Kurt was a superb racer and this is a tragedy that affects us all. We extend our deepest condolences, thoughts and prayers to the Caselli family. Their loss is immeasurable and we grieve with them."
A multi-time AMA National Hare & Hound Champion, WORCS Champion and many-time ISDE gold medalist, Caselli was a developing international rally racer as well. In June of this year he won the Desafio Ruta 40 Rally in Argentina – in what was only his second international rally since making his debut in the Dakar Rally at the end of 2012. Caselli won two stages of the Dakar Rally this past January.
Caselli and his factory-backed KTM racing team won last year's SCORE San Felipe 250 and finished second and third in the other two SCORE Baja races this season."
***Public Comments Section***
"
The larger issue now seems to be how SCORE lost the greatest offroad racer in the western hemisphere when he was leading the most famous race in the western hemisphere. And then took an hour and forty five to find him."
*Bill Fuentes Christensen

:
"Kurt Caselli

gives his thumbs up! He didn't need to sit out there dying just because SCORE's underpaid. overworked, abused and misused "tracking dudes" were so TIRED; having to watch those silly little "bikes" go around the course beginning the night

before at 11:00 p.m. - so bundled up with nerves that they forgot, ignored, did not care or fell asleep on the God Damn Jobs while the Celebrated Hallmark and All Mighty Trophy Trucks suddenly took Center Stage! That was going on as the vulnerable motorcycle racers were coming down Mike's Road to Highway 3 - and all the way across the damn peninsula, a single Medical helicopter and SCORE Ops just fluttered around, never to be bothered by the storm coming in off the Pacific!! Pfft! To Hell with those non "F1" types, eh Roger Norman? Hmmm? Where was "SCORE Ops" - "R O Y E R"? Why did Kurt Caselli never stand a chance out there when Standard Emergency Communications Protocol mandates this simple, elementary procedure that ever a dumb shit like YOU, Roger, should have comprehended by NOW: 1) When a vehicle suddenly stops, 2) in a remote area, 3) and sits for more than 5 - 10 minutes, and 4) no one sees it, hears from it, or the driver (rider) makes no attempt or cannot hit a damn button to communicate "I'm OK"; "Come and Get Me Out, Pretty Please" or Heaven forbid - "HELP ME FOR GOD SAKE!" we the did this, 5) set up LINE OF COMMUNICATION - send a damn signal - WHILE resources MOVE TO the area assuming the worst, but hoping for the best! Now I bet SCORE is going in reverse; or is it? I have your message dated 6/26/2010 Roger said: "Mr. F1 Style World Championship Off-Road Racing Series To Hell with the Bikes Dude"! No excuses, no bullshit! Don't blame those hungry slaves - trapped in the cramped confines chucked full of junk as one or more may have sincerely attempted to communicate with the driver/rider

.

Can we get a thumbs up from those who may be the NEXT victim(s)? Come on now, it is OK to express your feelings about someone who DEMANDS obedience, creates race courses that are designed to eliminate as many entries as possible so he doesn't have to (yawn...) DEAL with RESULTS!""
*Andy McMillin comments:
"Heroes get remembered, but Legends never die Kurt. You were more than a Legend, and I hope your close friends and family can find peace in knowing you went out on top; Leading the Baja 1000, 1st bike on the road, doing what you absolutely loved to do. In my mind, you won the race brother.

You had such a huge affect on me over the couple years I got to know you, and we will never forget your infectious smile and your continued drive to be the best both on a dirt bike and off.

66 Forever."
*Cameron Steele comments:
"
I am understanding more about where Kurt passed and the trees he crashed in. I have always had a bit of an uncomfortable feeling shooting through them even in the truck. To have an animal pop out in front of anyone would mean seeing it last second due to the coverage of the trees."
*Robby Gordon, reacts:
"So Bummed, this was the first news I got from my Dad at the Finish line and it brought tears to my eyes, I consider Kurt a Friend and he was so down to Earth and Professional. Glad to Know this STUD and amazing tallent. We spent some time with Kurt on Wednesday evening in OJOS and he was so prepared to Win the Baja and and he was well on his way to the Victory, and ready to bring the Dakar Trophy to the Stars and Stripes.

Harts and Prayers to his Family and Fiance

Please all remember he was doing what he LOVED to DO, ride WFO".
*Before the incident:
Press Report after BAJA 1000 Qualifying:
""The Pro Motorcycle class took a new turn in Baja California, Mexico, today, even before the official start of the 46th annual Tecate SCORE Baja 1000. Racers took part in a timed qualifying format on a slightly modified version of the five-mile course that the Trophy Trucks used, just outside of Ojos Negros, to set the front of the field for the race, which is scheduled to start at 11 p.m. Thursday night.

In a frantic sprint unlike anything that many of the racers are used to, FMF/Bonanza Plumbing KTM's Kurt Caselli is generally acknowledged to have claimed the top spot, although official results were not available as of our post time. Caselli is said to have completed his flying lap between one and three seconds faster than Johnny Campbell Racing Honda's Colton Udall, with THR Motorsports/Monster Energy Kawasaki's David Pearson timing third quickest, setting the front three starters for the grueling 883.1-mile race.

Qualifying may be something new, but the top three teams all expressed satisfaction with the format, especially considering that their race will begin in the dark on Thursday evening in an attempt by SCORE to make the race safer by lessening the interaction between motorcycles/ATVs and the four-wheeled vehicles, which are scheduled to start at 9 a.m. on Friday. The riders' reasoning was that it gives them the opportunity to control their own fate and avoid being stuck behind numerous slower entrants in the blinding dust that is a staple of Baja competition.

"It's good, I think," Caselli said. "You know, with the draw it is kind of just out of your hands, but when you have qualifying you can sort of strategize and put your fastest guy out there. Obviously he has to start, too, but you feel like you earned that spot, to start up front. That was our goal today, to start tomorrow's race up front."

Caselli appears to have reached that goal, as he called upon his decade of International Six Days Enduro special test experience to forge a blazing-fast lap on the Ojos Negros course after all the teams were only allowed two sighting laps.

"It went okay," Caselli said. "We only got two laps to look at the course, and it is kind of tough to memorize everything in two laps, but it kinds of reminds me of the ISDE, where you have to go out and sprint. I just wanted to be smooth, not make any mistakes or blow any corners. I think Colton (Udall} and I were pretty close at the end."

Caselli added that the team is hopeful it can take advantage of the clean air that is a clear advantage to whichever rider or team starts the race in the number-one position.

"Obviously it is going to be sketchy (the race will start at 11 p.m. tomorrow evening rather than early Friday morning as it has in the past), and the dust is going to play a big factor, but I am up for it," he said.

The FMF/Bonanza Plumbing KTM team will use four riders to cover the 833-mile race distance. Caselli will start the race before handing the reins to Kendall Norman, the runner-up finisher at the Baja 500 last June. Norman will relay to Ivan Ramirez, and former AMA National motocrosser-turned off-roader and EnduroCrosser Mike Brown is also on the team. Caselli said that winning the the Baja 1000 is a goal he has set for himself.

"Baja has always been on my list," Caselli said, "but there is a lot to learn, way more than just riding the bike. A win (by KTM) is something that's not just myself but a lot of other people have wanted to see it for a long time, and I will be very happy if I can be a part of that. I'm not trying to take any glory. I just want to be able to say that I was part of a winning team."""
--------------------------------------------
*Multimedia
Earlier in the racing year, Kurt Caselli called the SCORE San Felipe 250, "A Complete Mess", "Very UNorganized", "I was very disappointed".
Kurt, called it like it was. Maybe the best thing for KTM and Caselli, after the San Felipe 250, was to end the SCORE series. It could have saved his life and focused KTM and his personal future on International Rally racing.
"The Safety Issue". Cryptic.
Listen in here to the Interview with Kurt Caselli, from March 2013:
KTM PIT VIDEO
Located
at RM 779.
13 miles later is where Kurt had crashed.
SCORE Baja 1000 2013 "Rescue Graphic"
More Loading>>>
If you have information you want to share, send it to amexnow@hotmail.com