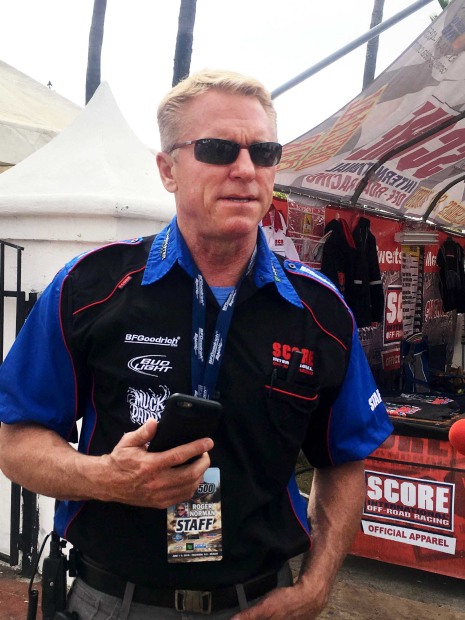 Roger Norman/ SCORE International of Nevada also resides in San Diego, California as does his "race shop", Norman Motorsports, housed in El Cajon a suburb of the Southern California tourism haven.
San Diego Union:
"Roger Norman, who heads SCORE, the Nevada-based sanctioning body that stages the San Felipe 250, the Baja 500 and the Baja 1000 flagship race, responded to a query that "this is in Mexico, it has no effect on the United States, the Mexican government is in charge of the races in Mexico, not the US media."
By: Gary Newsome, Publisher, Baja Racing News LIVE!
UPDATED! September 24, 2018
MORE VERY BAD NEWS FOR ROGER ROGER; LUHTALA FAMILY FILES LAWSUIT AGAINST "Promote Mexico LLC" of Nevada
Updated! October 7, 2018
VERY VERY BAD NEWS FOR ROGER ROGER>>>
This is the president-elect of Mexico, Andrés Manuel López Obrador, speaking from La Rumorosa, which is the top of the grade on the highway between Tijuana and Mexicali. He said,
"There is a lot of corruption in Baja California. The governor of Baja California, Francisco Kiko Vega is corrupt."
He goes on to say that Kiko owns some 60 houses, in Mexico and abroad, and he is building a US$5 million home in Tijuana. He goes on to say Baja Norte Government is just full of corrupt people.
VERY BAD NEWS FOR ROGER NEWS! CLICK HERE! FOR THE UPDATES
UPDATED! Friday, August 14, 2018
The Local Insight, "The Tragedy and The Embezzlement"
ZETA Newspaper Tijuana, Baja California, Mexico
For various reasons,

the

Baja races, produced by Roger Norman of San Diego, records at least one death during the most important sporting events in this Baja California community, Ensenada

,

B.C., Mexico!
Governmental entities that organize the events have been declared in the red, bankrupt, as the budget is insufficient and end up paying with money from the community.
The latest edition of the DEATH RACES, desert off road races, controlled and organized by the American company, Score-International. SCORE is based merely on paper in Reno, Nevada, USA.
One public event, set at his private home on Mission Beach, uses public property with none of the REQUIRED City of San Diego, nor State of California Coastal Commission approvals. Last year the same 'event' got this hype: "Set in SCORE President & Owner Roger Norman's beautiful residence in Mission Beach, San Diego".
707 Pismo Court, San Diego, California 92109 at the intersection near 3750 Strandway in the Mission Beach area.
To this reporting, no required permits were filed for each event held in San Diego. CLICK HERE TO SEE ROGERS TAJ MAHAL IN SAN DIEGO, much paid thru the non-payment of taxes, fees and assorted despised governmental money-dues. Editorial, of course!
On Saturday, July 28th, his "event" uses public property and a public right-of-way, activity that mandates governmental approvals and fees, for the rest of the public in similar situations.
Rogers SCORE operations are based in San Diego. Like the Jackson Motorsports pukes, SCORE support, Baja race based trucks and management in Santee, California, San Diego county. In San Diego and funded by BFGoodrich Tires, of MICHELIN, France based corporation. Rogers real base of corporate and race operations of 'SCORE', the company, are also based in San Diego county. His "operations" "shop" is in the city of El Cajon and his California home is in Mission Beach, also in San Diego county.
Space Monkey Trophy Truck Mike Cook Owned Killed Child
Every year, the carnage is disgusting, leaving Mexican Nationals and

foreigners dead. Many car accidents, numerous innocent people injured, and trash/ecological damages all along the length of the Roger Norman designed, race course routes.
Even though it appears that the municipal government benefits with the location of the competition, what is certain is that with each race, the municipality, through Proturismo, had ended up in the red since 2011, with debts of 150,000 pesos (US$8,000) which end up being paid with city money.
"The races have had Proturismo in bankruptcy for years," criticized one person interviewed.
Businesses such as prostitution also have become an attraction for those in that business, and days before the race women in the business arrive in Ensenada from other Mexican states.
Delinquent Driver Todd Pederson #75 Truck
An 8-year old American boy, identified as Zanders Hendricks, was run over and slain, by the 'Space Monkey' Trophy Truck. Two Mexican locals were struck and killed by Ed Herbst of the Terrible Herbst team of Las Vegas, Nevada.
This is not the first time that tragedies have corrupted the peace of this seaside town.
In each edition at least one person linked to the event dies for different reasons.
SCORE and Roger Norman, has manipulated and threatened authorities with the possibility of move the race to Puerto Peñasco, in Sonora, or La Paz, Baja California Sur.
Those governments have computed the proceeds and rejected the SCORE proposals because the government revenues would be insufficient to the costs born by the local people.
Now, with the new rules from Mexico City, Roger's corrupting local officials days are numbered. How many Mexican officials are willing to go to prison for the DEATH RACES? Stay Tuned...
Courtesy ZETA Tijuana.
Additions provided by Gary Newome, Publisher.
CLICK HERE FOR TRANSLATED ZETA STORY!
***NOW! Andrés Manuel López Obrador, AKA AMLO, President-Elect, the Republic of Mexico, announced the "General Guidelines for Combating Corruption and the Application of a Republican Austerity Policy", several of which he mentioned repeatedly during the electoral campaign. There are 50 points [Total] that group his campaign promises and also specify the commitments that your government will make, relating for example to general, electoral and anti-corruption prosecutors. In this matter he said that there will be "absolute autonomy", that they will not receive "orders" from the Presidency, they will have impartiality and they will avoid impunity, "regardless of who they are".
"49. In commercial or financial relations with international companies, preference will be given to those in countries whose governments are characterized by their honesty and bribery or corruption will be consitently punished.
50. Contracts signed with national or foreign companies that have been granted through influence or corruption and that cause damage to the Treasury will be reviewed, in case of anomalies that affect the national interest they will be addressed with the Congress and National and International Courts, always driven by legal means, we will not act arbitrarily, nor will there be confiscation or expropriation of property."
This is VERY BAD news for Roger, SCORE and Gringo racing in Mexico! UPDATED!***
"Roger Norman, who heads SCORE, the Nevada-based sanctioning body that stages the San Felipe 250, the Baja 500 and the Baja 1000 flagship race, responded to a query that "this is in Mexico, it has no effect on the United States, the Mexican government is in charge of the races in Mexico, not the US media."
From the San Felipe 250 2018 DEATH RACE story by Sandra Dibble, San Diego Union
Finally, a real journalist digs up the REAL STORY! The Driver and co-driver ran from the death scene>>>CLICK HERE>>>
###
SCORE FRAUD? SCORE NEGLIGENCE? SCORE BUTCHERY? CLICK HERE TO SEE ROGER HIDE FOR COVER!
Racer Matt Scarpuzzi Goes Public,
BJ Baldwin GAGS on his Answers
--------------------------------
***UPDATED!

CLICK HERE

FOR THE LOCAL SAN DIEGO COVERAGE WITH John Soderman TV Report KUSI 51/Cable Channel 9 ***
DRUGS & ALCOHOL ARE RAMPANT IN THESE RACE EVENTS! THERE IS NO RACER TESTING FOR RACING UNDER THE INFLUENCE IN SCORE INTERNATIONAL (2010)
SCORE-International DEATH RACE Baja 500 '2016, Trophy Truck Crushes American Child
UPDATED! DEATH RACES SUNDAY PAPER SPECIAL! CLICK HERE
"Back in the days when I worked at National Speed Sport News, Chris Economaki told me that in the 1940s and '50s, it was a given that there would be at least one fatality every week at a racetrack somewhere in America. It's mind-boggling to think that drivers regularly getting killed was the norm".
Now at SCORE-International, one person dies at EVERY race event!*
(*Current average [racer & spectator deaths] under current SCORE-International owner, Roger Norman)
***
UPDATED! Baja Racing News Nails THE CARNAGE
BAJA 500 2016 BFGoodrich Tires Kills American Child in Mexico CLICK HERE
Gary Newsome, Publisher BajaRacingNews.com