CLICK HERE LIVE! BAJA 1000 2019
RACE EVENT COVERAGE BEGAN
SATURDAY, NOVEMBER 23 AT 3AM
CLICK HERE LIVE! BAJA 1000 2019
CLICK HERE FOR EVERYTHING BEFORE THE GREEN FLAG
CLICK HERE
KING OF BAJA 1000 2019 LIVE! SCHEDULE
TOYO TIRES Presents!
HAMMER KING! LIVE!
Bone Breaking Race Smack
Thursday, November 21
5PM on BajaRacingNews.com

MONSTER Mike's GARAGE,
LIVE! Thursday, November 21
8PM to MidNight From
Papa's & Beer Cantina
Downtown Ensenada, Baja MX
SUSPENDED! RaceDay on Friday, November 22, starts at 4 AM for the bikes, 10:30 AM for the four-wheel racers.
Re-Scheduled! RaceDay on Saturday, November 22, starts at 3 AM for the bikes, 10:30 AM for the four-wheel racers.
REPLAY! THE LIVE! BAJA 1000
2018 LOOP RACE LAST YEAR
REMEMBER THE KING OF BAJA 1000 2016? RADICAL!
BAJA 1000 ARCHIVES INCLUDED! CLICKY!
BAJA RACING NEWS LIVE !
RACE COURSE GOOGLE MAP
Race Course Mapping Legend
Chase/Support Access Green Routing
Race Mile in Red Circles
VCP's in Yellow Circles
Checkpoints in Blue Circles
ALL LIVE! on Baja Racing News LIVE!
RACE UPDATES ROLL-OUT TO THE START
Thursday, November 21, 2019
UPDATED! Racing Team Info &
Reporting on Course Conditions
Racers and the 2019 Baja 1000
OFFICIAL DAY 2 CONTINGENCY
PICS AND VIDS CLICK HERE
*CLICK HERE OFFICIAL CONTINGENCY PICS/VIDS
*Introducing the BajaLisco UTV Team!
Everything Before The Green Flag & More Racers Information LOADING>>>
BAJA 1000 Racers and Teams
Reporting Continued and everything before the green flag
*Robby Gordon, SPEED Energy Motorsports
Corey Geiser, Damen Jefferies and Devon Goode
*Jenson Button , Rocket Motorsports
The 2009 Formula 1 champion Jenson Button will race in the Baja 1000 on November 19-24, as he makes his off-road competition debut. He will race an 850 horsepower Truck in the Spec 6100 TT category – for trucks that weigh less than 5000 lbs (2267kg).
That's the second-highest spec of racing in the Baja 1000, with the top-tier reserved for unlimited trophy trucks that are mainly unrestricted. Le Mans 24 Hours LMP2 class winner Chris Buncombe will partner Button as will another driver, Mazen Fawaz.
*BITD Champion Jason Voss is not on the racers list, he's home with his first born child. Congrats Jason.
Race Teams Report End
Updated!
Tuesday, November 19, 2019
FLASH FLOOD WARNING ISSUED!
FLASH FLOODING IS OCCURRING NOW ON THE BAJA 1000 Race Course CLICK HERE
CLICK HERE FOR FURTHER BAJA WEATHER SERVICE REPORTING
CLICK HERE
RACE BULLETIN! RACE BULLETIN! RACE BULLETIN!
FLASH FLOOD WARNING ISSUED
7AM TUESDAY MORNING
ENSENADA, BC BAJA 1000 2019
CLICK HERE FOR SAT DATA
UPDATED
Monday, November 18, 2019
Baja Weather Service Report
Like most years, 2019 is little different. Great driving conditions, warm, sunny skies lasted until the last weekend of pre-running.
A neon green flash sunset was had by all at the coast on Sunday evening during the last really warm day of pre-running.
Baja 1000 2019 James Glickenhaus Sunday Sunset Baja Boot Pre-Run
Baja Weather Service Alert
Over the race course, Today-Tuesday
*Remnants of Tropical system Raymond (Post Tropical Cyclone) are now influencing the state of Baja California North*
Raymond's remnants are moving northwestward, becoming absorbed by a large, developing low pressure trough, currently offshore, west of the Mexican Baja California peninsula.
The possibility exists, the forming trough, could become a cut-off low pressure system, stationary over Ensenada.
Prevailing winds from the southwest are forecast to move the center of low pressure to the northeast during the start of the race. Stay tuned...
General Forecast Graphic
***"...STRONG, SCATTERED AND ISOLATED SHOWERS AND WINDS: FROM 17N TO 26N BETWEEN 105W AND 111W.
The combination of the remnants of Raymond and the developing trough west of the Northern Baja Peninsula will bring clouds onto the Baja 1000 race course today and into Tuesday.
Portions of the Southern Baja California peninsula has experienced heavy rains causing life-threatening flash flooding."
*Skies will turn nasty Tuesday, November 19, when rain and winds find their way over the 2019 Baja 1000 race course.
Over the next couple of days, One and one-half inches of rain will be common from in-town Ensenada across the race course into the mountains, less rain in the deserts.
Here's the forecast model just prior to the green flag in front of the casino. CLICK HERE
Visibility will be challenging on Wednesday, with general clearing up until Friday, November 22. CLICK HERE
***Official Forecast:
Skies turn cloudy today, Monday, November 18.
"For the coast, valleys and mountains; This week forecast, a low pressure channel that will bring, colder weather, with the possibility of precipitation for Wednesday and Thursday.
For the deserts: A strong system of storms is being developed that would affect the region from Tuesday to Thursday, bringing a greater chance of rain and cooler temperatures."
Baja Weather Service
More UPDATED!
Wednesday, November 20, 2019
"THE MORNING PARADE CANCELLED
SanQuíntin BC - They are informed that the parade scheduled for tomorrow's day Wednesday, November 20, 2019, by last minute agreement, will be CANCELLED and postponed, this due to weather conditions, as rain forecasts persist in the delegations from El Rosario, Vicente Guerrero, Camalú, San Quintín and San Vicente.The parade will be held again on Wednesday, November 27, 2019, which will be held in the way it was planned."
Original Report:
Friday November 15, 2019
ZERO TOLERANCE ANNOUNCED FOR RACE COURSE, SOUTH OF ENSENADA
CLICK HERE FOR UPDATE
EXECUTIVE SUMMARY:
Follow all the instructions of Police Officials
No official graphic instructions are provided to the public, the plans are secret from the public, making the safety plans, not very safe.
BajaRacingNews.com
CLICK HERE FOR THE PAST UPDATES>>>
Pictured Above, the secret software and VCP's (virtual check points) and how the public has no clue where the course lays! This (image) is what they (roger Norman) sends you when you miss a VCP. Cost us the win at the 500! Missed 120' by about 120', 10 second gain cost 10 minutes!
Looks to be a few pings around the area.
BAJA 1000 2019 Race Tracking, Penalties and the Secret SCORE Saucery of Who Wins These Shit Events
How does SCORE 'implement VCP's?
Here's the expert Baja Seve's* take on things:
*We'll reveal his real name and his job at the US. Navy, since he's uses DOD servers!
"Everyone suspects they use geo-fences, like the speed zones. that way they can just collect which VCPs you hit, which would be easy to pull out of the unit, either via satellites or with a USB or Bluetooth device at the finish. the probably don't pull the GPS log to analyze it, unless there is an incident/accident or someone contests the finish. but then, with a PC and special software/script it wouldn't take long to compare the GPS log to the "official track" and show where you deviated, but if you did it for everyone it would take some time, so just for "special treatment". how do they deal with teams who's tracker "broke" during the race and then magically worked at the end...
All racers tracks are analyzed by 'proprietary software' [that's porked by Roger Norman (SCORE B-owner), DURING 'his' race events!]
that that reports both course compliance and speed in the speed zones. The ping rate is around 1 second data therefore it is very accurate. There are two independent tracking and recording systems that constantly update your data stream through satellite and or cellular. The system is comprimised in the way SCORE uses it.
I too saw that 60' vs 120' thing and will find out what the real world ruling is. My main complaint is that I feel that SCORE is over using the placement of VCPs. They were designed and implemented to keep racers out of sensitive areas and for course compliance. They are intended to take away the incentive to cut across a farmer's field for instance, that then results in lost permission next time to race on his land. They are there to help keep everyone honest, where major short coursing could occur. But what they were not intended to be is the course itself. With over 280 VCPs so far in the upcoming 1000, it seems like it is becoming a connect the dots race. The problem I see with that, is that the race becomes too single file, no room to breathe, almost no reason to prerun and you have to drive or ride right down the the center of every shitty whooped line and silt bed. I for one believe that there is a difference between lines and short-coursing. You should be able to find good lines while pre-running. You shouldn't have to spend your whole race with your face buried into your GPS in fear of missing imaginary dots. Every form of racing has lines in it. The Indy 500 even has high, low and even sometimes middle lines. Motocross has lines within the track. Desert racing, and especially Baja, used to be wide open. I know things have changed but seriously, let them breath. Let them race. I also believe you should get penalized or DQ'd for blatant and deliberate short-coursing. So where do you draw the line then? You draw it where it matters. (hence the use of VCPs at strategic locations) But they certainly don't need VCPs to be in sandwashes, or in flat wide open straight desert sections, or at every little bend in a two track."
Next, Why doesn't the public know where the race course is? That's why spectators are parking their cars, feeding their children and drinking beers directly on a 'race course', where 900 horse power desert racers are blasting through Baja Mexico>>>
LIVE! DISCUSSION TODAY LOADING>>>
CLICK HERE! BAJA 1000 2019 COMPLETE
RACE UPDATE! November 1:
After ten years of the ASO DAKAR event in South America, the ASO have demonstrated how badly SCORE International has performed since Roger Norman bought the shit circus!
SCORE ignores past death investigations, SCORE ignores civil protection and the local government fails its citizens in basic spectator and racer protection.
Just another death investigation and SCORE cover-up CLICK HERE
There have been 21 people killed as a result of Roger Norman/SCORE International event management.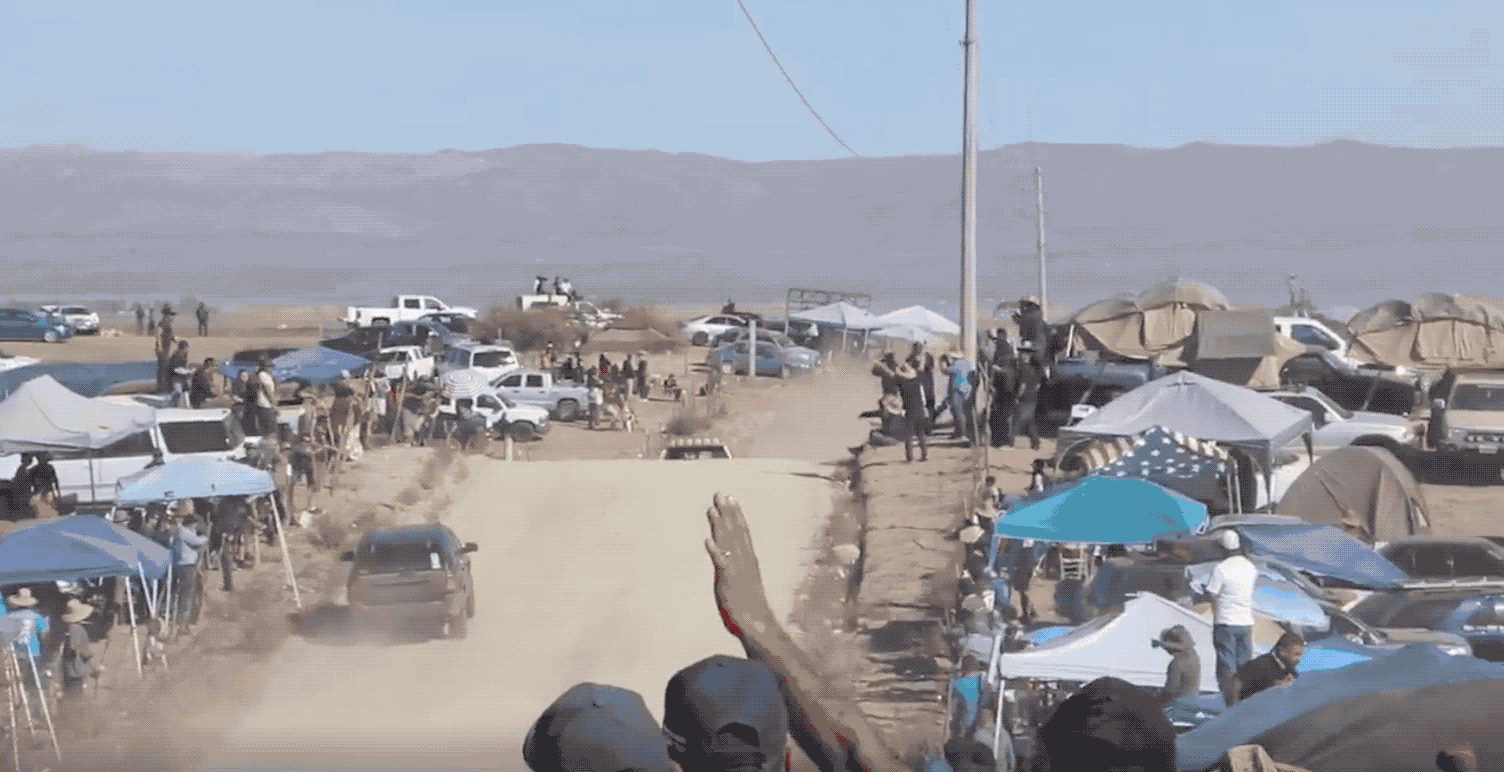 The DEATH RACES continue!
Stay tuned for all the bloody details>>>

DAKAR shames SCORE
The ASO is a professional organization, that respects human life. Here's some examples of how a professional race operator behaves,
they have REAL SAFETY PLANS!
Actual DAKAR Spectator Zones!
CLICK HERE FOR THE 2019 DAKAR spectator safety plans.
Each and every SCORE event SHOULD have defined, thorough and public (transparent) safety plans. THEY DON'T. That's why people die.
These simple activities, safety operations, do cost money. That's why Roger REFUSES to own up to his responsibility.
The safety situation with SCORE events is even worse than expected...at times there are no crossing guards when the race course crosses major paved highways, Federal Highways!
There are little to no public safety plans in place and no medical evacuation response.
Before Roger Norman purchased SCORE, there was only basic services, now there are little to none.
SCORE and the local Baja California State Government and the local city-county government of Ensenada are culpable.
Most of the time, medical evacuation for the seriously injured, for racers and spectators alike, either doesn't exist or is so late in reaching the injured, they DIE. [The Mark Luhtala Incident]
Of course, our coverage was in depth and on target, to the dismay of the mindless desert racing crackheads (DRC) CLICKY HERE
RIOTS, LYNCHINGS AND MAYHEM
Things are so bad, the spectators are beginning to take matters in their own hands.
It's also THE explanation, when you see the reports of a racer being beat TO DEATH by the spectators. It's just a matter of time when one of these public racing deaths quickly turns into a public lynching.
Of the driver and co-driver.
There are several 'racers' still breathing air, who could have likely been killed by the spectators who witnessed their failings.
So, the spectators are NOT the only ones at risk. Why do you think these rich American pussies, run to the border after an accident?
They know what's going to happen to them. They will be beaten. They will be left to die. They will be killed.
CLICK HERE to see what happened to these American off-roaders.
Shame on SCORE and Roger Norman for NEVER caring about human life.
October 26- The SCORE-International/Roger Norman SINS failing to take Safety seriously
Firstly, SCORE International fails to mark the race course with appropriate "markers". So, locals don't even know where the course runs in their communities.
The volunteer Brenthel brothers 'mark' the course for Roger. They do a 'volunteer job', it sucks.
So, for 700 miles the race course is mostly unmarked. Local residents have no clue where the course runs and they ARE NOT NOTIFIED of the schedule of the event, nor any other contacts by local authorities.
International code doesn't even allow races using public, open roads! This race uses public, open roads, in violation of international laws!
Secondly, SCORE, the local authorities and the sponsors of the DEATH RACES do not notify the public about the details of the racing events.
They may at times, tell the newspaper, radio stations and various internet platforms.
However, the public is never told of the complete plans of the racing events. They are never fully informed of the ongoing operations being performed by race operations, racing teams and the sponsors operations.
They can't. Many of the race operations are confidential for team race 'effectiveness'.
Cameron Steele of the Desert Assassins on a recent livestream told the audience, "can't tell you that because we don't want everyone knowing about it".
He was talking about the racer he was partnering with and their race preparation plans, including how many vehicles were being used and their 'safety' plans.
Think about it, hundreds of teams, tens of big sponsors and the racing organizations vehicles all over the race course, which isn't marked, driving like chickens with their heads cut off, before, during and after the race.
Speeding, cray cray driving and often the drivers are drunk or on drugs. Now, many are pot smoking their heads off, one sponsor of SCORE is a pot smoking operation.
It's a massive, full-speed, Mexican cluster-fuck, spotlighted as a "world event", by careless gringos racing on open, public roads made up as "race courses", in a third world country.
Most everyone has no clue where the course is. Except those with expensive GPS systems with highly secretive course software.
That's why at least one person is killed at every one of these DEATH RACES.
In Roger/SCORE events, the course is virtually secret and no public outreach, means the DEATH RACES continue!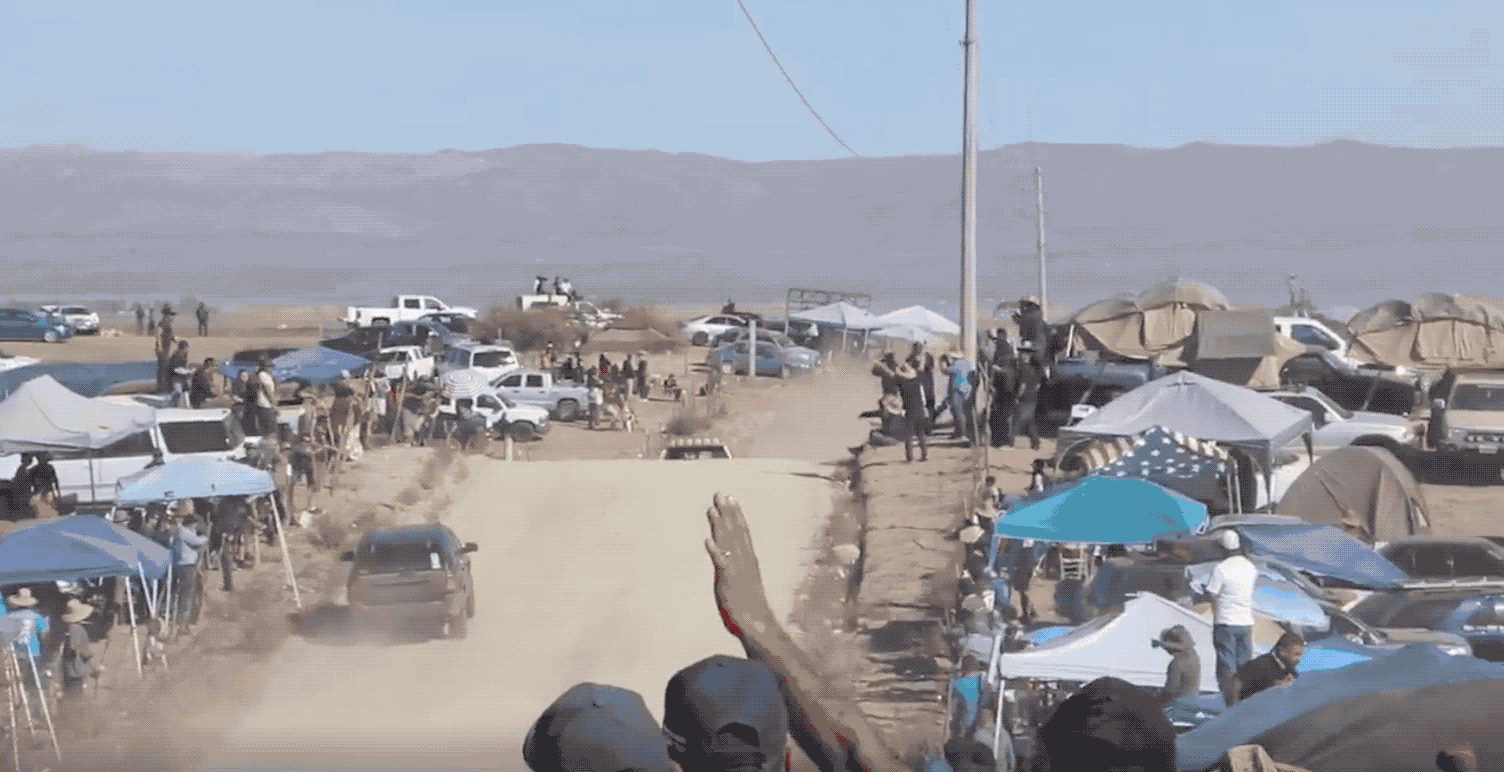 Here's what happens- no race course controls during the race, the locals don't know the rules and they drink their asses off and what do you get?
Head on collisions and DEATH
UPDATE! Wednesday, Oct 23
Roger Norman shames desert off-road racing community, by bailing on historic race course and sucking dick of another shit loop event!
Racers ashamed by SCORE Fail!
Official SCORE Race Director:
"the first 12 miles or so of the race controlled by a Speed Zone Areas, no 80 MPH runs through the Ensenada river wash at Calle 8. we removed the man-made jump (rampa) at Calle 8".
Andy McMillin: "My family has been racing Baja for years, Roger needs to sell SCORE and get the hell out of Baja Mexico racing!".
Ensenada Mayor: "The original race course was good, SCORE failed to follow through on its promises, AGAIN!".
Gabriel Garcia: "our reporting on this story, here in Ensenada, says the fees for the original course were not high, the Mexican officials who talked with SCORE say Norman is breaking long standing deals, maybe he is now ready to sell SCORE".
"Maybe it wasn't the fees, maybe Roger is sick of the negotiations and the nickle and dime fees the goverment is requiring to race in protected areas".
"Roger had to pay out the nose for rolling his Baja 1000 course through the Cirio cactus areas and now he's pissed off".
RACE BULLETIN! October 20
SCORE International underfunded! Can't afford to pay the government fees for driving north, bails on historic race course, first proposed
UPDATED October 18
KING OF BAJA 1000 2019
LIVE! Event begins Nov. 18!
Publishers Note:
The organizer of this event (Roger Normans SCORE) and the governments of Baja California (State) and Ensenada (City-County) are incapable of following international law, securing safe conditions for its people (because it cuts into Rogers PROFITS)
nor telling the truth.
We are huge fans of desert racing.
So, you'll find our reporting a mix of a celebration of the sport and confrontational journalism.
Some updates across our platform, include Crazy Baja News, Roger PORKING race results and the Drunk and Stupid race support stories.
During our coverage of this particular racing event, we'll spotlight how badly Roger Norman and the desperate local authorities will allow insane, unsafe but so very entertaining -
DEATH RACING!
Gary Newsome
Publisher
From October 18:
Who's Gonna Die?
Mark Luhtalla? Kurt Caselli?
The American child at the Baja 500?
A Monster Energy Promo-Girl?
No, they're already Dead!!!
Who's Gonna Die at this
SCORE Baja Event???
From October 6:
Race Teams Rumors!
Updated October 28:
141 total signed up


22 Trophy Truck
4 Trophy Truck Legends
12 Class 1
14 Trophy Truck Spec
2 Ultra Boring
9 Class 10
2 Class 7
2 Class 5 unlimited
13 Pro UTV Forced Induction
4 SCORE Lites
6 Pro UTV Normally Aspirated
2 Class 1/2-1600
1 Pro Stock UTV
3 Class 3000
3 Class 5-1600
3 Class 11
2 Sportsman Unlimited Truck
1 Sportsman Stock UTV
1 Sportsman Buggy
4 Pro Moto Unlimited
3 Pro Moto Limited
3 Pro Moto 40
4 Pro Moto 30
9 Pro Moto Ironman
12 Sportsman Moto
**Red Bull Forces Unwanted Marriage!
Bryce Menzies and Andy McMillin 'Shotgun' forced to race together fo this Baja 1000
**Casey Mears Denies Nascar coming to Mexico!
"The problem is we can't get the type of insurance needed to bring millions of dollars worth of racing equipment to Mexico".
"But, Doug Fortin Junior is chosen by the Nascar Series driver, to be his relay aboard the Axalta Racing Trophy Truck during the Fall classic.
Junior has 3 overall wins within 1000 miles, 1997, 2001 and 2003, which will bring his experience toMears and Axalta after last years Bacal disaster."
**Dan McMillin invited to race with Ryan Arcierro after his ride burns to the ground after the last event!
BajaRacingNews.com Insider Interview LOADING>>>
LIVE! BAJA 1000 2019 BEGINS November 18
RACE COURSE FAIL!
UPDATE Sunday, Sept. 29
KING OF BAJA 1000 2019
Race Course Released!
September 28, 2019
Counter-clockwise course run, south out of Ensenada to the coast, across the interior to the canyons of San Felipe.
Loop race event, covering 799 racing miles.
North out near the village of San Felipe, that sits along the Sea of Cortez, the course runs through the desert canyons and vast wastes of Laguna Salada.
BajaRacingClub will be located at KM 26 on the HighWay starting November 21, to the haunted La Rumorosa grade.
Baja 500 2015 BajaRacingNews.com
"TOTAL COVERAGE". Down La Rumorosa!
This event (November 2019), is scheduled to run UP, the grade of the Sierra de Juarez and through the vaunted Pine Forest and into the Finish Line at Ensenada.
(Video)The 2008 SCORE Baja 1000 and the death legends of the area, are For Real!
Is it the first time ever, going up in elevation from the desert floor climbing the escarpment in the northern sierras/Sierra de Juarez?
Here's the video! UP the grade!
SPEEDMex made famous!
The La Rumorosa Hollywood Shoots-Ghosts! CLICK HERE
KING OF BAJA 1000 2019 SCHEDULE
SCORE Pre-Running begins on Saturday, Oct 26.
RaceWeek starts on Monday, November 18
RaceDay on Friday, November 22, starts at 4 AM for the bikes, 10:30 AM for the four-wheel racers.
Two (2) sportsman bypasses, with over 100 miles bypassed.
La Rumorosa Notes
The Haunted Old Road, La 'Rumorosa' grade.
BAJA 1000 2008 PreRuns DOWN The Grade
Baja Safari CLICK HERE describes how the region got its name and legend.
Baja Racing News
Official Pre-Runs
start Sunday, September 29
with SPEEDMex
Here's a description of the same area from a 1995 pre-run; Courtesy of SPEEDMex:
"SWITCHBACKS FROM HELL The run down to the desert floor from the La Rumarosa dump was exhilarating, to say the least. The Sierra Juarez escarpment is a virtual 4000-foot drop to the Laguna Salada basin -- all of which can be seen where the so-called road disappears before ones very eyes. Imagine God's great ice cream scoop gouging out the mountain side down to sea level.

As the La Rumarosa dump is cleared a vista of immense proportion appears. Laguna Salada and the eastern-bounding Sierra Cocopahs lay far below, as if viewed from a Phoenix-bound 737. But you are, rather, on the edge of a solid earth-bound escarpment and can barely see the vertical face of the granite fault line that lies below you.

The vista is intimidating. It is as if you were on a window of a skyscraper and planned on driving down the face of the adjoining building, switching back and forth, ledge to ledge, to the rocks below. The cut-rock course, freshly-bladed (by who knows w ho ... he was not paid nearly enough) zig-zags across the imposing granite wall.

Switchbacks lead to switchbacks which lead to more switchbacks, all of which drop off into near-vertical talus slopes. An outer edge occupant cannot even see the next two switchbacks down below as the driver hugs the inner wall. One-eighty-degree turns require backing up by longer cars. Portions of the "road" had enough exposure ... vertical drops ... such that any reasonable imagination could envision a fall that would kill one from fright -- before the impact some hundreds of feet below.

Old wash-outs are loosely filled in. Outer berms are buttressed with a few stones. Nothing could prevent the a car from plummeting, plunging into the abyss. Imagine racing down Bright Angel Trail into the Grand Canyon. With Tom Koch hammering on your bumper. It would be difficult to argue that acrophobia -- the fear of heights -- is unreasonable. As they joke, it's not the fall, it's the sudden stop at the end that gets you.

No, it is the THINKING about it! Or riding along with someone else. Even someone as adept as Diehl. Tellier later remarked that he thought that he had been frightened before but this slow crawl down the face was it. Diehl thought it would have been better if Tony had not hit the throttle pedal with his foot on a switchback.

Ron Brandt was reported to have had to back up several times in "Blackie" to get around. Pete's Camp "jefe" Rafael Navarro remarked that this road was the original route from Mexicali to TJ. "Buses would meet and have to back up ... or down ... to a wide spot." Walking would seem safer and certainly less stressful. Cutting brakes WILL be required.

After the chance of death dropped to an acceptable 50-50 proposition, the course passed by a decrepit aluminum trailer peopled by tequila-swilling locals. The cars then dropped into a reed-filled black-water swamp several football fields in length. Boun ded on both sides by fifteen-foot high bulrushes, avoiding the axle-deep ruts appeared to be cause for concern as angular granite boulders were everywhere. This section ought to be well-RotoTilled come race morning. Water proof everything!

ASSESSMENT
Get down to the desert floor cleanly and you will be on the road to a good finish. Get behind the power curve on the plateau and making up time will be difficult. Not impossible, of course. Just difficult. SAME OLD STUFF After the junked T-Bird the course heads out to the old T94 dry lake road to Cohobuzo Junction, the two Salada and Oasis access points, the Crack of Doom and the usual Borrego crossing. Kirk and Rick tore the sidewall out of a "Baja" on a buried rock just past the La Ventana well field. Ever notice how the flats and the trees and the stickers come on the passenger's side?"
Apologies, to Tony Tellier.
WHO'S GONNA DIE?!

The REAL 'What About You?'!

How many of you will not be coming home after the race? Dead and Gone.

Read on Brother. Don't just expect the worst out of yourself. You're racing in Baja-Mexico, "The Most Notorious and Dangerous Racing in the World". Expect the worst from everyone else on the road!

It's time to race and LIVE!
"No eternal reward will forgive us now for wasting the dawn".

- Sleep until you can't sleep any more.
- Sleep before you cross the border.
- Eat likes it's your last meal. It might be!
- Know your driving limits.
- No booze or nothin' else, unless you want to race Death!
SPEED Mex is taking orders for complete race services for the 2019 Baja 1000, November 18-24 2019, at Ensenada, Baja California.
M
edia Support and Race Team Services are available. Book now, deadline for service provision is October 29.
KING OF BAJA 1000 2019
The late Jessi Combs (L) was the co-dog in this disaster, directing the driver Paige Sohren (R) off of the race course and into an earthen crevasse. Pete Sohren would not let this navigational fuck-up derail his team. He directed the team out of the disaster and across the finish line, for an official finish in the event!
Written & Edited By: Gary Newsome
BajaRacingNews.com
REMEMBER LAST YEARS BAJA 1000? SCORES DESTROYED FACE AND CLIPPED MIRROR! CLICKY
REMEMBER THE KING OF BAJA 1000 2016? RADICAL!
BAJA 1000 ARCHIVES INCLUDED! CLICKY!
RETRO REPORTING 2008 DARK HORSE BAJA 1000
RETRO REPORTING 2008 What Happened On Devils Dry Lake
...Thief Rory Ward (ORMHOF)
Steals race car parts off of Jim Mihal Crash...
KING OF BAJA 1000 2019
Gary Newsome, Publisher
Offices in Ensenada, Baja California Mexico
CLICK HERE FOR THE LIVE! COVERAGE OF THE BAJA 1000 2019 CLICK HERE
BajaRacingNews.com